Multi-tenant VoIPOffice
Designed for serviced offices and office parks, Multi-tenant VoIPOffice is a communications platform which enables service providers to deliver high quality telecoms services to users and businesses within multi-tenant environments. Manage all your clients from a single platform, minimising service activation and support times.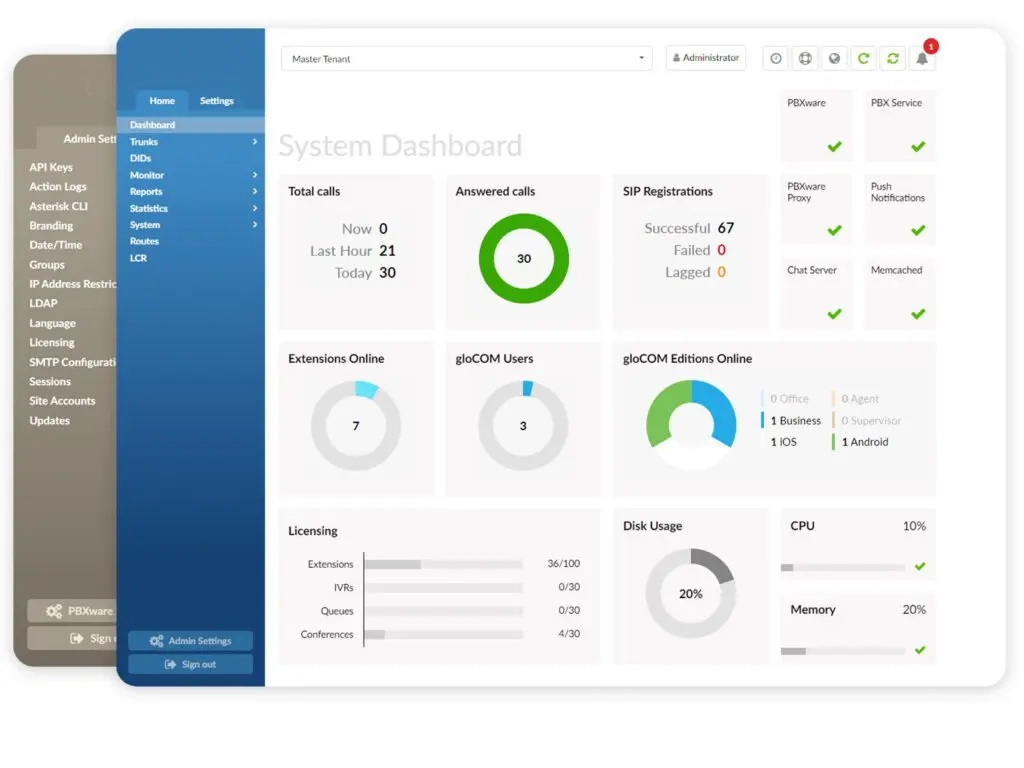 Editions to suit your client
Deploy business and call centre editions onto MT depending on your clients' business requirements. VoIPOffice provides Internet Telephony Service Providers (ITSPs) with a powerful platform to deliver cloud-based voice and video communications.
Unlimited tenants, user / company self-service portals, and least cost routing options are just a few of the advanced features included, as well as unified communications functionality provided with Communicator desktop and mobile applications.
Multiple customers on a single installation
Multi-Tenant VoIPOffice handles multiple customers (tenants) in a single cloud installation. Even though every customer is completely independent of any another, they all share the same platform, significantly reducing operating time and costs.
Call Rating
Built-in call rating system can be used for both local and international use. You can set monthly and daily spending limits, as well as inclusive minutes, choose a call rating increment, set connection charges, and more. You can create different service plans and quickly switch between them based on customers' needs.
Least Cost Routing
LCR is the process of predefining and directing the path of outbound and inbound communications traffic, depending on which call route is the least expensive. Configure different SIP trunking providers for inbound and outbound capability and improve profitability with automatic call routing.
Statistics
Access daily or monthly call statistics with ease. Gain insight into usage statistics, such as who and when calls were made, total and average call time, number of answered and missed calls, and more. Access graphical call statistics displays for seeing performance at a glance.
Customisation
Not every business is the same, and that is why we can customise the VoIPOffice platform to the specific needs of each individual client. If you are looking for a feature or integration which isn't currently supported then we would be happy to discuss development options with you.
Comprehensive Role-Based Management
System administrators can delegate management of the platform by creating groups and user permissions. Users can be grouped by Administrator, Site Admin, Operator, Manager, and other custom groups. In addition to limiting the scope of changes that can be made by different groups, system administrators can transfer management responsibility to individual tenant owners.
Use your existing IP Phones
Multi-tenant VoIPOffice is compatible with most SIP-compatible IP phones. Use the same extension on multiple devices. Save time for both your IT personnel and users by using features such as automated provisioning, busy lamp field (BLF), hot-desking, and more.
Archive your data in the cloud
VoIPOffice integrates with Amazon S3, Google Drive, Dropbox, and FTP. Automatically store voicemail, call recordings and call data records securely and remotely.
Powerful speech to text
The VoIPOffice voicemail system integrates with Google Cloud Speech-to-Text and IBM Watson (STT). Get text transcriptions of your voicemail messages sent to your email.
Call Recording
Set up call recording for all extensions and access them via a secure web portal. Improve security, customer satisfaction and raise the quality of customer service by playing back and analysing call recordings. To ensure that callers have given their consent, you can set default or custom announcements to be played before a recording begins.
Branding
Make your business stand out with your own platform branding. Once we have your logo and company colours, your VoIPOffice platform will look and feel like your very own, providing strong brand recognition to your customers.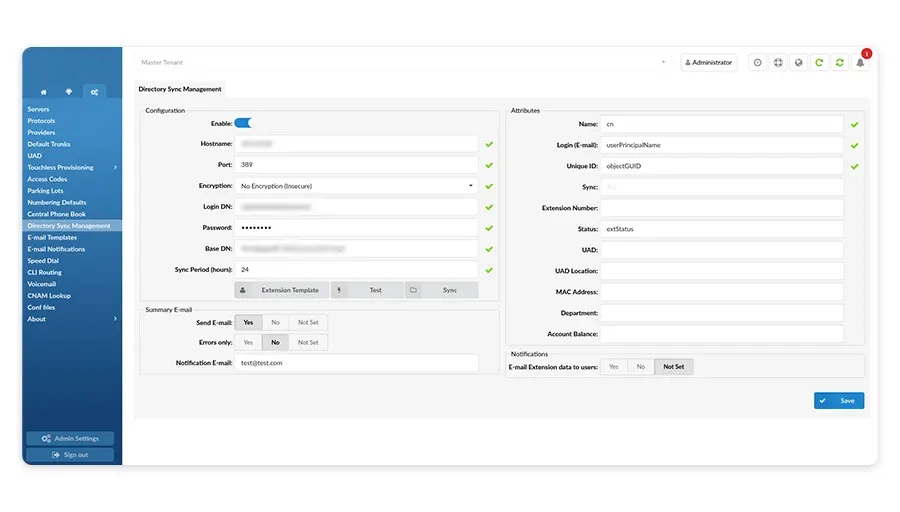 Directory Sync Management
Directory Sync Management (DSM) is an application that allows you to connect to LDAP services for validating users. To improve the user experience, DSM enables the user extensions to be customised using a template. Settings can also be personalised for certain extensions and different changes applied if needed.
Make calls directly through your CRM
Incorporate all the features and capabilities of VoIPOffice within your CRM application. Multi-tenant VoIPOffice integrates with the most popular business apps such as Salesforce, SugarCRM, MS Dynamics, Zoho, Zendesk, Bullhorn, Vtiger, Pipedrive, SuiteCRM, Hubspot and many more.
Online self-care
Cut down your support cost and create a better experience for your customers with the online self-care portal. Through the online self-care portal, users can access their personal dashboard and reports, check their voicemails, make changes to features such as caller ID, do not disturb, call forwarding, and more.
You might also be interested in…
CRM & Browser integrations
Our cloud platforms seamlessly integrate with a variety of business support systems.
Number Porting
Our porting services make it easier for businesses to start experiencing the benefits of cloud communications.
Want to get started with Multi-tenant VoIPOffice?
View our products & services or get in touch with one of our advisors.
General Email
For enquiries & support